Testimonials
Imogen
Cheapest place in town for propane. My son loves seeing the baby chicks and ducks.
Andrea
Looking for my new doggy toys and food. They have the best value for Blue Buffalo dog food and they also many different pets items from chicken feed, cat, equine, small animal equipment and supplies.

The staff is very friendly and easily approachable. I'm not the type of person who has to be greeted upon entering a store. I am that type of customer when I'm in the food aisle and staring from one brand of dog food to another, I appreciate store personnel to ask if they can help me. Which they did.
Adam
Excellent place for pet supplies and awesome customer service. They definitely know their stuff!
Gina
Who doesn't like supporting small independent businesses? At the moment I have 2 adult German shepherds and 3 pups, and man can they eat! The dog food here is priced well and they have so many brands to choose from, including the leading holistic brands. They also have a ton of dog supplies.
They offer a great service on Sunday mornings where you can get shots for your dogs that are extremely inexpensive. The staff is well trained and friendly. The people performing the shots are also professional.
Peggy
Great service, almost plenty of help. Kids love the bunnies and guinea pigs to pet and the baby chicks in spring. We go every 2 months for our dog food even though its a bit of a drive for us.
Reverend
I buy all my pet food here. Their prices are reasonable and selection is decent. Plus, the staff is always friendly, unlike chain pet stores.
They also have customer appreciation days every once in a while and there are always great deals then.
Shannon
Best feed store around! We get our dog and cat food here which is Premium Edge and hard to find anywhere else. Its a great price compared to online. We get new baby chicks here every year along with their chick food, feeders, waterers. Plus they sex the chicks out which is AWESOME since we only want hens and no surprises. We get our bird food here which we've found on SALE from time to time. We get rabbit food here in bulk, a 25lb bag for 8 bucks!! Customer service isnt the greatest when they're busy but I dont come here to gab it up, I come here for the products and prices and the guys in the back who cary out your products and put them in your car are AWESOME always. They have a service which comes out EVERY Sunday to give your animals cheap shots, microchips or flea and heartworm products, show up a little early for that cause the line does get long. Only problem we have ever had was a fish that we brought here died shortly after putting him in our tank and they made it right by giving us a full refund with no questions asked :)
Gail
I think they're great. Not pregnant and still they always carry my dog food for me. They have a great selection of dog treats and they really know their products.
Mario
This is a nice place to stop by. I went for the first time to refill propane tanks and I was met with great customer service and witnessed others receiving the same great service. The lady ahead of me was helped with her dog food and also the lady ahead of her. Great customer service and welcoming it is worth stopping by.
Pamela
Prefer River Valley to the big box stores any day. I have found their prices to be much better, which I wouldn't have expected from a local supply store. I have also found that they know their products, which became very helpful when we found we were in need of having to switch dog foods because of a gluten issue.
Gary
There customer service has always been excellent. I dont know what sactown77 problem was but you can tell by the comment that they he is an idiot. Complaining he has to move his car so they can open there gate and saying that there IQ is at issue. Some people think that the whole world should revolve around them.....
I have been buying my supplies from them for two years also and there service has always been excellent.
A
I have shopped at this store for several years. The customer service people are friendly and go way out of their way to help you. They have fantastic poultry food...my chickens are few, but well cared for. I appreciate them putting the larger bags of feed into my Element. Much better than the other local feed stores.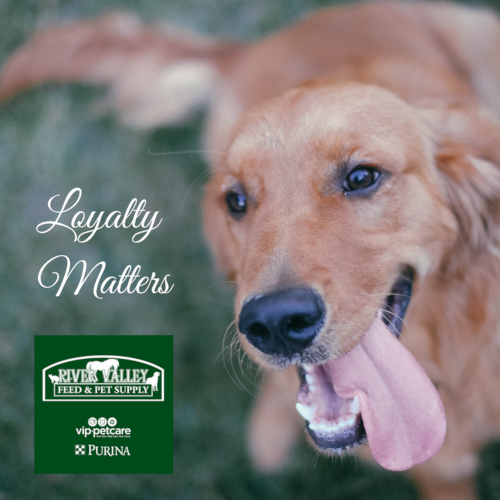 Want to save more money at River Valley Feed & Pet Supply? Sign up for our loyalty program: Text RVF to 55678 Did you know that your favorite pet food brands have loyalty programs available through River Valley Feed &...
Offered By: River Valley Feed and Pet Supply