Testimonials
Shanaca
I have always had wonderful service! About 95% of the time they have the dog and cat foods I buy. And bunny food now. The ladies and gentlemen are always kind, considerate and helpful. Thank you River Valley Feed and Peter Supply.
Gary
They have everything our critters need and, if they don't have something, they'll order it for us. Great service. We shop there all the time.
Paris
River Valley is our local feed store. They have always given great service! Kevin, Trish, Heather, are always fair! I love shopping local and are awesome!!
Lisa
Clean store, abundant supplies, great service and best prices!
Julie
Never shopped here for my pets' supplies or food, but sounds like a place I am definitely going to have to check out. Heard nothing but Good thing about prices and people there. I'm there.
Josh
Great prices, friendly staff and family atmosphere. I buy all kinds of stuff here; dog food, chicken feed and scratch, straw and even my chickens. Awesome local feed store!
Donald
Awesome prices with great deals on pet supplies and friendly staff
Lori
Awesome feed store with awesome people!
Ron
Get most all of my horse feed and stuff here. Quick and convenient.
Julie
River Valley Feed has great prices, great selection (better than where I shop) and great staff; I only wish I lived closer! I go to a closer feed store due to where I live, but whenever I can, I try to get down to RVF; it's worth the drive!

RVF has a huge selection of products. They carry the brand of Nutro dog food that I feed to my teacup chi's, and they are the cheapest from Sacramento, to Lincoln, to Yuba City. They also have amazing prices on Elk Grove Mill horse feed!!

I absolutely love shopping their booth at the Horse Expo every year, they have the BEST prices at the show, you can really see the sale prices. This year I went with my friend and we purchased a lot of stuff! We weren't able to tote it around, so RVF said they would watch it for us. When we were done at the show, we went back and bought more stuff, they offered us a ride back to our car via their ATV. They did it for all customers, not just people who bought a lot. No other booth offered that kind of service! Thank you!!

One of the items that I purchased at the Expo, I had to wait for the item to be shipped to the store, there was a glitch, so I was hoping we could figure it out. When I called, the sales person from the Horse Expo actually remembered who I was! We completed the transaction in the store and I received my item without any hassle! Everyone was so willing to help.

I highly recommend RVF, thank you for such great service and prices. :)

Alyssa
Only good experiences so far! I will be back to support this local business with quality selections of dog food.

I know you can get anything online these days, but I don't want to risk any timing delays or doorstep theft when it comes to dog food. Best value for quality is Taste of the Wild. I also end up grabbing a few bags of Blue Wilderness treats on sale. The shop itself is well-maintained and the cashier has been efficient and friendly. They also have VIP pet care services offered on Sunday afternoons, I think between 12pm and 2pm. I waited in line for 20 minutes and micro chipped my dog for $15!
Michelle
I showed up early to buy chicks but the guy in front of me wanted to buy them all. The manager came out and made sure I and the other customers were able to get the chicks we wanted before the guy could buy them out. And he took the time to advise me on the duck and goose breeds. Great customer service - He totally made my day!
Adam
I came into the store this morning needing to buy food for my chickens. Unsure what to purchase the ladies behind the counter helped me figure out what would be best. In having casual conversation i informed the ladies that I had recently had heart surgery the ladies had the guys in the back separate the 50lb bag into smaller bags for me so i could lift them myself. Amazing customer service and very helpful bunch. I will definitely be returning.
John
The best pet and feed store I've ever visited. We buy all our pet supplies here for our dog and cat. (The selection of food and toys is far better than any big box store!) And I've purchased horse stall mats here on several occasions. Great selection, service and prices.
Kristen
Never had a problem shopping here! ALWAYS clean and ALWAYS great customer service! They're selection of dog and cat food is decent and they have many items for chickens, horses, fish, and rodents/small animals. I wish they had more ferret items though, i can't find much for my ferret here. ):
They've also got a small collection of western jewelry for sale, all very pretty! And for the little tikes they've got a nice collection of realistic plastic animals toys and Breyer model horses.

If you're in the mood for a snack....You absolutely HAVE to try the gourmet licorice! It's amazing!
Conclusion...great store!! Check it out!! :-)
E
This place rules & is well worth the drive from Roseville for us. They have a great selection of bulk food and bedding (we have rodents and reptiles) at awesome prices. The prices on their reptile supplies are even cheaper than the prices at speciality reptile stores (which are cheaper than stores like Petco, etc). Sounds like a great deal, right? We have saved so much money without compromising quality or quantity by shopping here!

Also, staff is super friendly & knowledgeable about their stock.
Dawn
Awesome place! Found my dogs food there at a great price. They have small pets there as well. The kiddos liked that. It's a busy place so I waited longer than I thought I would. No worries tho the price of my pets food was worth it.
Sarah
I love this place! Everyone is so helpful and friendly! They make you feel like they care about your pets. The return policy is also great... If fido doesn't like the gluten free mumbo jumbo hippie food, bring it back for alpo without any argument or judgy glares. There are many options for feed/supply stores in our area but the customer service here keeps me coming back!
Ben
Better and cheaper than all the other petstores. Don't burn your bank account up shopping at big retail stores. They have the same stuff here.
Angelica
My husband and I love going at this place! The workers are super friendly and are knowledgeable about the products they sell and even have good advice for pet care. We have 2 pet rabbits and we buy are food and supply here all the time.
Candace
We've been customers for 18 years! As horse and dog owners, we visit at least 7 times per month. The customer service is excellent. Staff is very helpful.
The only real issue I have is with the hay prices. I know prices go up and down, but if you're buying in bulk, maybe a deeper discount is in order? Also, might be good to track and reward your loyal customers with a discount card (other than the Senior Equine card).
Jessica
Customer service here is unbelievable! We just got a blue nose Pitt puppy and were in need of her shots plus dewormer. The staff was so so so helpful and even helped us find her food. I was surprised their prices were so reasonable. I'll definitely be returning here
Kristy
I came in for my first time today because my neighbor HIGHLY recommended it. I can see why! They are amazing, so friendly, great prices, and they have EVERYTHING! They had my pot Belly pig food and dog food for cheaper than I have seen anywhere else. They also have a great program for Blue Buffalo where you get your 10th bag free.
Susan
Disclosure: I am not a farmer, nor am I agriculturally inclined in any way, so I cannot recommend this feed store from anything other than the perspective of a dog and cat owner.
That said, it is FANTASTIC! They have holistic, locally-made dog and cat foods, and the overwhelmingly knowledgeable, and very helpful person who helped me keyed in immediately to what I needed and made some great recommendations for me. My dogs adore their new food which was ON SALE but not expensive to begin with! The cats are still getting used to it, but my little porkers can stand to skip a meal or two now and then anyway. Need I say the cats now have diet food? Um yeah.

I have to say that the drive out from midtown Sac is so worth it. I easily saved $25 or so (maybe more, I didn't actually compare scientifically), and the selection was far better than my local (I won't name names cuz they're still really nice people) feed store.
I also found out that if I bring in my receipts from 8 dog food purchases, the 9th is free. Isn't that nice?
I'll be coming back for sure. Maybe I'll get chickens (just kidding, neighborhood)!
Rodel
Not even an open 50% off coupon at PetCo could beat this place when it came to poultry food and rabbit food. Awesome!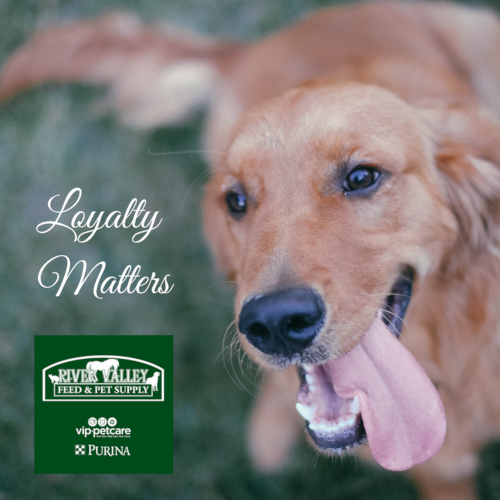 Want to save more money at River Valley Feed & Pet Supply? Sign up for our loyalty program: Text RVF to 55678 Did you know that your favorite pet food brands have loyalty programs available through River Valley Feed &...
Offered By: River Valley Feed and Pet Supply